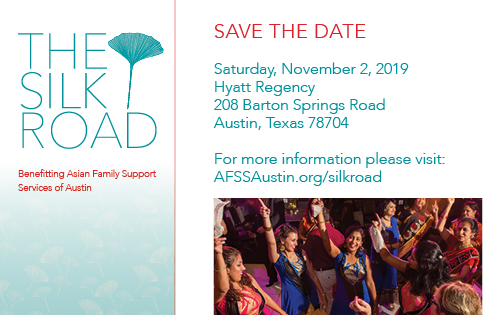 Registration for Silk Road 2019 has closed.
If you are sharing a sponsorship with friends/family/colleagues and need to purchase your individual seats at the table, you can use this form to make your contribution. If you have pledged a sponsorship amount and wish to make your donation or cannot attend but want to make a donation to support AFSSA's work, please use the form below.
Thank you to our Honorary Hosts!
Hon. Steve Adler (Mayor, City of Austin), Marina Bhargava (Greater Austin Asian Chamber of Commerce), Hon. Gregorio Casar (Austin City Council, District 4), Ashley Cheng (Rouser), Ronald Cheng (Chinatown), Hon. Nicholas Chu (Travis County Justice of the Peace, Pct. 5), Vincent Cobalis (Asian Quality of Life Commission), Hon. Jimmy Flannigan (Austin City Council, District 6), Hon. Sean Hassan (ACC Trustee, Place 4), Hon. Sally Hernandez (Travis County Sheriff), Anita Lakshman, Anuradha Naimpally (Austin Dance India), Rajina Pradhan (Tarka Indian Kitchen), Hon. Arati Pandya Singh (AISD Trustee At Large), Lesley Varghese (Office of Mayor Adler)