a celebration of Asian and immigrant culture and community
Photos by TriD Photography
Save the date for our 2021 Silk Road gala-at-home! See below for sponsorship opportunities.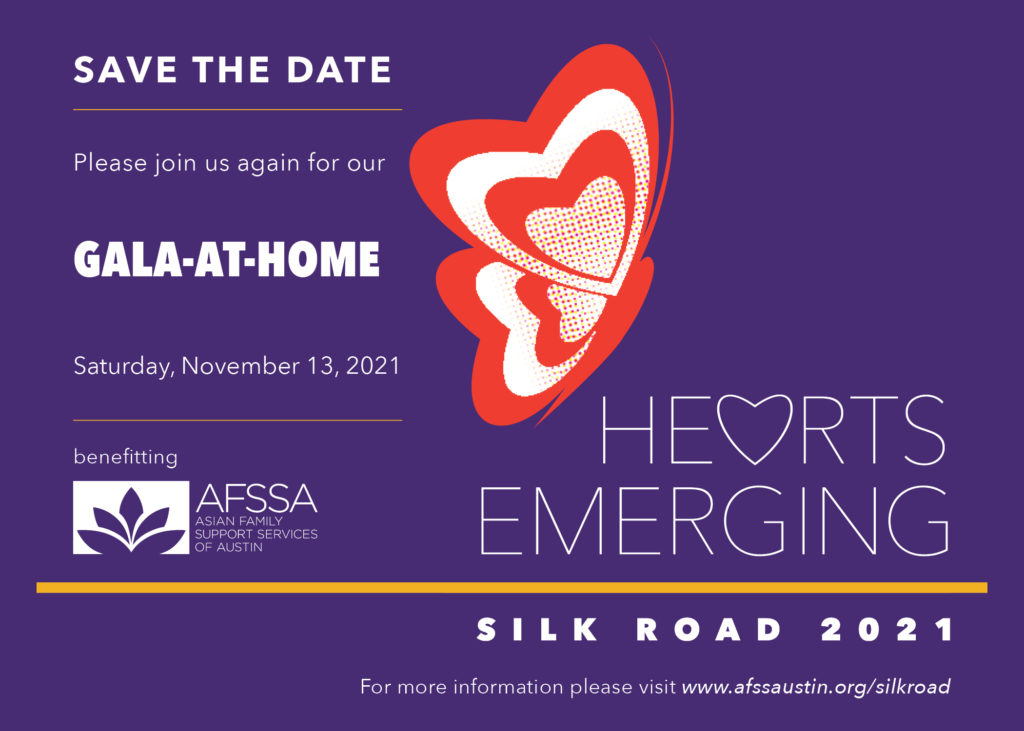 2021 Silk Road Committee
Rajina Pradhan | Co-Chair
Paul Yin | Co-Chair
Jasmine Foo | Auction Chair
Vandana Agarawal
James Canup
Harishini Ernest
Samira Ghosh
Ketan Kharod
Darlene Lanham
Anila Moledina
Jolsna Thomas
Helen Wormington
Use the form below to become a Silk Road sponsor! Questions? Contact sponsorship@afssaustin.org.
EXCLUSIVE PRESENTING SPONSOR – $10,000
Virtual table for 20 with Exclusive Dinners &Signature Beverage Packages for 20 guests, delivered to either one (1) or up to ten 10 location(s)

Header Logo or name recognition on event webpage; prominent media promotion
EMERALD – $5,500
Virtual table for 15 with Preeminent Dinners & Signature Beverage Packages for 15 guests, delivered to either one (1) or up to eight (8) location(s)

Featured logo or name recognition on event webpage
SAPPHIRE – $3,750
Virtual table for 8 with Specialty Dinners & Signature Beverage Packages for 8 guests, delivered to either one (1) or up to four (4) location(s)

Logo or name recognition on event webpage

; p

rominent social media mention
JADE – $1,750
Virtual table for 5 with Preferred Dinner & Signature Beverage Packages for 5 guests, delivered to either one (1) or up to two (2) location(s)

Name recognition on event webpage
---
Promotional Sponsorships
ENTERTAINMENT SPONSOR – $7,500
Sponsor logo and link listed on all applicable event materials including marketing materials, web promotions, advertisements, etc.

Sponsor logo/name listed on screen, as appropriate, during event

; a

nnouncement by presenter before award ceremony
SILENT AUCTION SPONSOR – $3,500
Exclusive sponsor logo placement on silent auction webpage

Logo placement on all silent auction-related correspondence
CENTERPIECE SPONSOR – $2,500
Sponsor logo and link listed on all applicable event materials including marketing materials, web promotions, advertisements, etc.

Sponsor logo/name listed on each individually delivered centerpiece
LOTUS AWARDS SPONSOR – $1,500
Sponsor logo and link listed on all applicable event materials including marketing materials, web promotions, advertisements, etc.

Announcement from by presenter before award ceremony
PROGRAM/INVITATION SPONSOR – $1,500
Sponsor logo and link listed on program and invitation in appropriate location

Sponsor logo and link listed on event website
And Thank You to the 2021 Restaurant Partners:


---
---